Under the NSS scheme in the university; facilitated, coordinated in conduct of regular activities, special camps, success stories, blood donation camps, personality development of the students and other mandatory activities etc., in 6 ½ NSS units & 3 Self Finance Units from different colleges of the University.

Every year organized State Level NSS Advisory Committee meeting by involving all the members to present activities at Dr.YSRHU, V.R.Gudem and for planning of NSS activities.

Every year organized International Day of Yoga in Dr.Y.S.R. Horticultural University.

Participated in NSS Youth Festival organized by Acharya Nagarjuna University, Guntur on 13th December, 2018.volunteers got prizes Miss Archana.D- Poster making 1st prize and Navya Harathi- Rangoli 1st prize.

Vanamahotsavam, a tree planting programme was conducted at College of Horticulture, Venkataramannagudem on 08-09-2019. Students have planted Michelia champaca saplings in the play ground of College of Horticulture, Venkataramannagudem.


Blood Donation Camp at COH, V.R.Gudem on 2nd November, 2019 have organized the blood donation camp in association with Blood bank wing of Government Hospital, Eluru and Vasista Lion's club Amalapuram on 02-11-2019.

Three NSS Volunteers from COH, V.R.Gudem have participated in 10th Bharatiya Chhatra Sansad held at Vignan Bhavan New Delhi from 20th to 23rd February, 2020 organized by Bharatiya Chhatra sansad foundation MAEER's MIT school of government, Pune.

Organized "One Day State Level Skill Development Training Programme" at COH, V.R.Gudem on 13.03.2020 on the following five components and 100 NSS Volunteers from 5 Universities. Certificates were issued to participants in the valedictory function. All the resource persons had brief their Experienced Learning programme modules to all the NSS Volunteers. Later the NSS Volunteers were divided into 5 groups to learn about the 5 different modules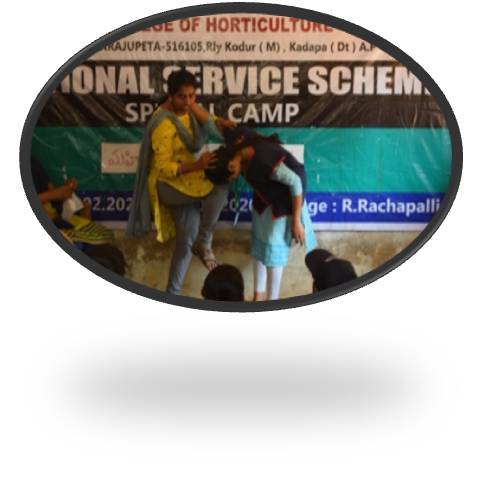 NSS special camps

Sramadhanam (Cleaning at the primary school premises and grama panchayath office at peddathallapolam village and planting of ornamental plants at temple premises).

Creating awareness about the effects of plastic usage and Swachh Bharath (Removal of Parthenium hysterophorus)

Creating awareness about preparation of juices, Squashes, cordials, jams and jellies etc..(Value addition ) & Organic farming of Vegetables.

Conducting human health camp; preparation of value added products with horticultural crops programme to the rural women and cultural activities by the volunteers. Importance of Education and Medicinal plants-uses
(i) Conducting Animal health camp

(ii) Rallies on important days and cultural activities by the volunteers.

(iii) Social service programme for the aged & orphans and cultural activities by the volunteers.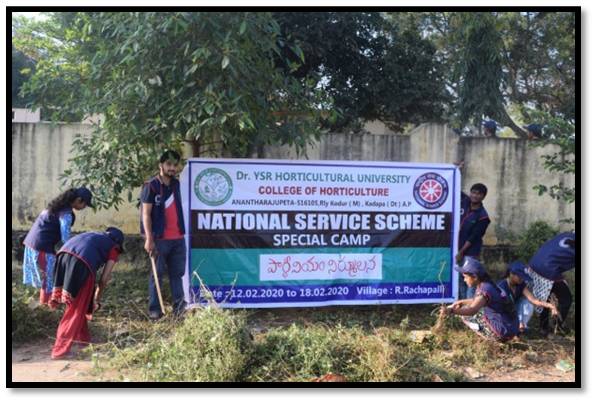 Educational tour
Organization of exposure visits, educational tours in Andhra Pradesh as well as South India tour to the students for getting good exposure and acquiring knowledge is a regular practice every year:


South India Educational Tour

A.P. Education Tour

Diploma students exposure visit